Truffle Treasures host truffle hunts and other truffle inspired events. The truffiere is located in the Daylesford Region of Victoria, just over 1 hour from Melbourne (Specific instructions will be provided on booking). Select from one of our sublime truffle-infused experiences. 
We do our very best to accommodate dietary requirements, so please let us know when you make your booking.
Please contact us if you are interested in a Private Hunt and we will do our best to accommodate your group
Please Note: If you have a gift certificate that you would like to redeem or would like to purchase one, please contact us directly via the Contact Us page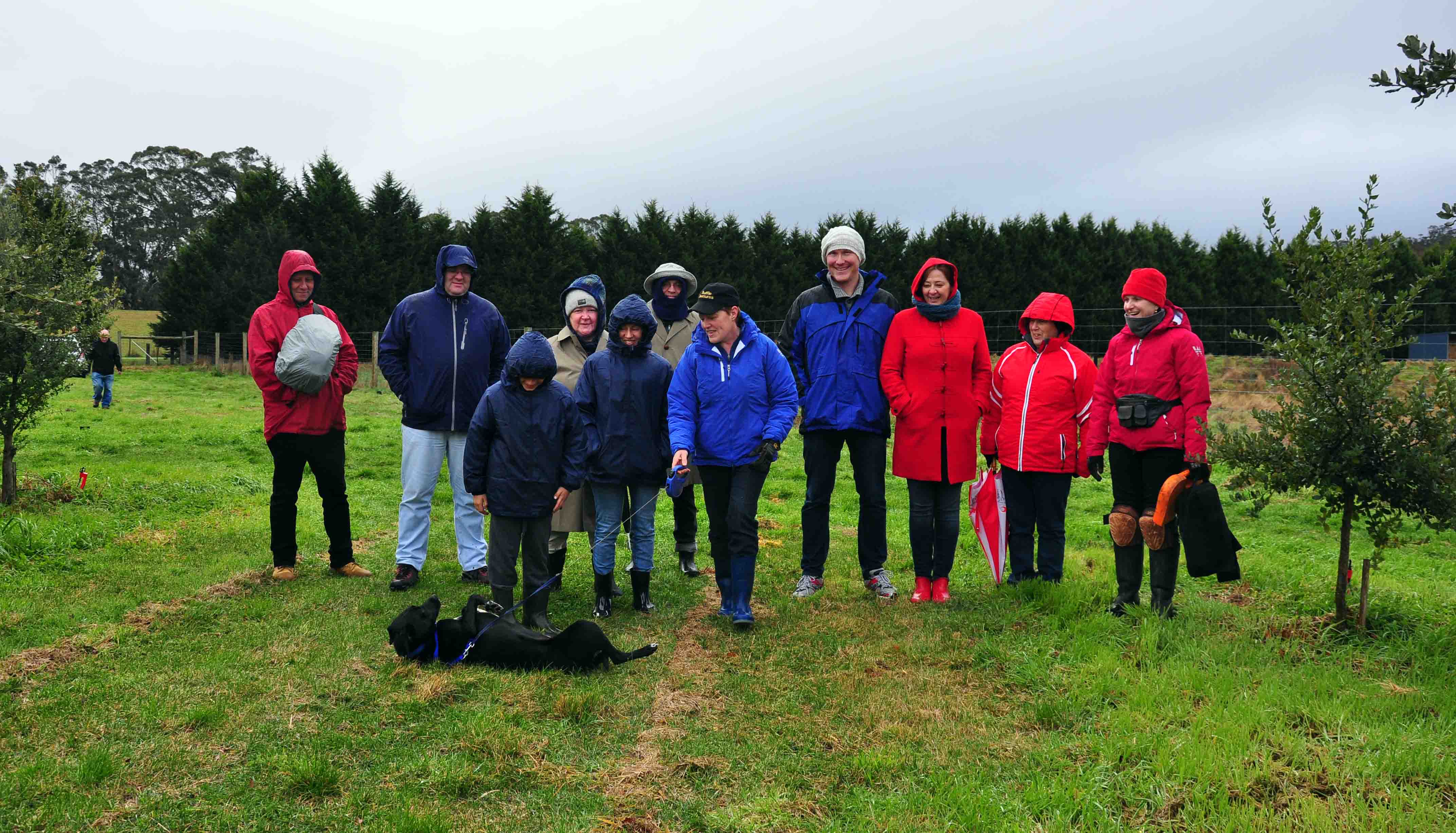 Truffle Treasure Hunt with Abbie and Holly
(TTH) 10.30am – 12.30pm
Sunday 13th June – CANCELLED DUE TO COVID
Saturday 26th June – SOLD OUT
Saturday 3rd July – SOLD OUT
Sunday 11th July – SOLD OUT
Sunday 25th July – SOLD OUT
Gather your hat, coat, gloves, scarf and sturdy boots to experience the thrill of the hunt for truffles, led by our clever canine scent detectives Abbie and Holly who are sisters that just love to entertain.
Your visit includes a warm welcome from Abbie and Holly followed by a fire-side chat to hear all about the history of growing black truffles in Australia.
Decide whether you are joining the red team (led by Holly) or the blue team (led by Abbie) as the sibling rivalry kicks in!
Be inspired as your clever canine guides your team on an archaeological dig where you are welcome to gently unearth our prized black gold.
Which team will reign supreme with the biggest haul for the day?
See it, touch it, smell it and join us in our purpose-built truffle facility for a taste of truffles as you warm up in front of the cosy wood fire and awaken your senses to the earthy pleasure that is black truffle.
Delicious cauliflower soup finished with cream and freshly grated black truffle; warm, fresh crusty bread with truffle butter, and the piece de resistance (that's French for 'Best Bit') is the yummy truffle-infused chocolate custard that follows.
WARNING: you may find truffles are addictive!
Bring your friends and loved ones to share this unique and fun-filled experience.
We provide Tips and Tricks for using fresh truffles at home and truffles will be available for sale!
Complete Truffle Indulgence
BACK IN 2021 BY VERY POPULAR DEMAND!! 
(Bookings via Sault on (03) 5348-6555)
(CTI) 10.00am – 3.30pm
Saturday 31st July – SOLD OUT!!
Saturday 7th August
There are few words to describe the feeling you will come away with after our complete truffle experience. Firstly, Abbie & Holly, our canine crew, will delight you with their truffle-scenting style. Help to find and dig the truffles, then join us in the Trove to find out all about preparing and using truffles in your own home. All this, followed by a sensational 5 course truffle-infused lunch at local Sault Restaurant. Truly magnificent!
Truffle Treasure Trove & Truffiere & Sault Restaurant
Address supplied after booking (Daylesford area)
Ticket price for Hunt followed by lunch – $230 per person
Please note: there is an option to do the hunt only for these dates for $60 (Contact Us)
 Alternatively, you can select the lunch only option at $170 per person
Please contact Sault Restaurant on (03) 5348-6555 for booking enquiries and to reserve your spot.
Ballan Farmer's Market
Pending COVID-19 developments, Truffle Treasures will be at each of the winter markets in Ballan on the second Saturday of each month in June, July and August 2021 (pending COVID-19 restrictions).
Click here for details on times and where to find the market